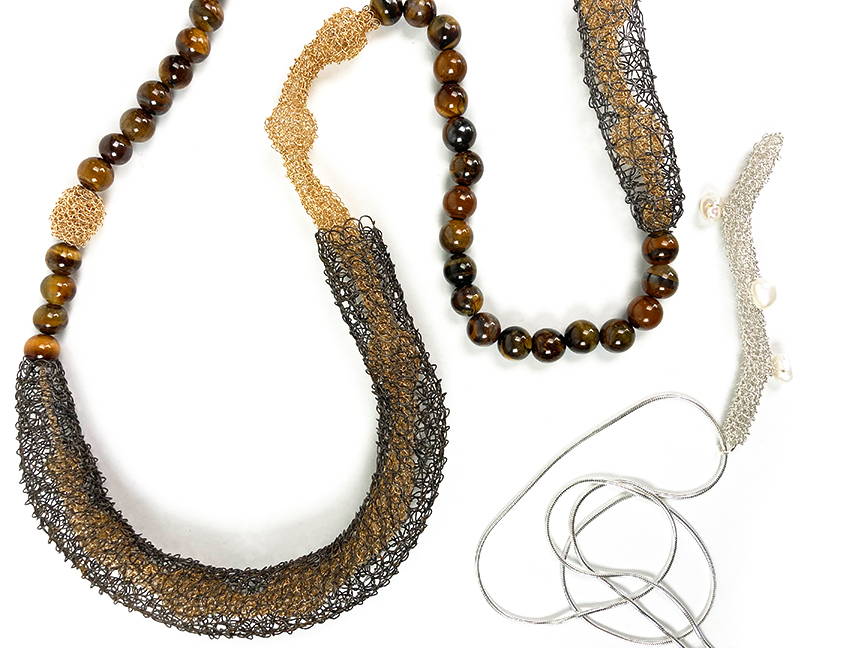 We are excited to showcase Cottler Fox jewelry, made by local Little Rock AR artist Michele Fox. The items will be available in the store and online through January 31, 2021.

We asked Michele a few questions about her work and process to give our shoppers a glimpse inside the mind of a maker:

1. When did you start creating jewelry? Have you always been a maker?
I have always made things but originally I worked in fibers through knitting, crochet, crewel, needlepoint, and handmade clothing. I took basic lapidary and silver work many years ago, and had thought about making jewelry for years, but there was never any time after medical school. When I moved from Baltimore to Arkansas to work at UAMS in 2000 I suddenly had several hours a day more in my life because I wasn't commuting to work, so I took metal courses at night at the Arkansas Arts Center. I moved from traditional techniques to using crochet, knitting and other fiber techniques in metal soon after that.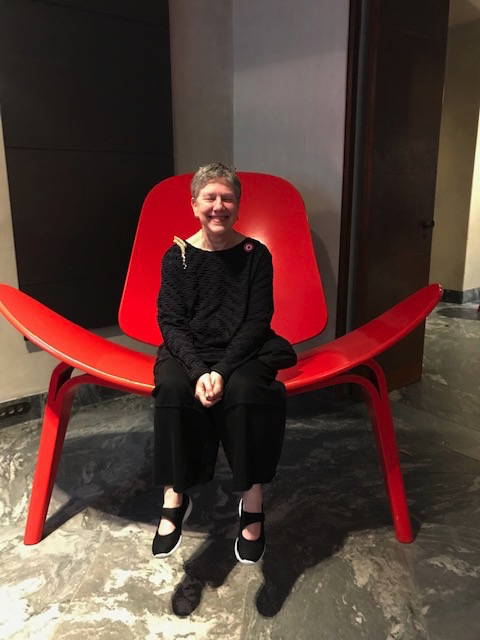 2. Do you define your work as art or craft?
"When I started to crochet and knit with wire there were no books or teachers here so I invented my own technique, and that felt more like craft. As I started to read about jewelry, I realized that the craft/art definition didn't seem to work for me (there were some kinds of work that seemed more like craft and others like art.) Once I found Art Jewelry that was what I wanted to make, and I have been working hard to get there. I hope now I am making art but it's a tough definition to pin down. I really prefer to think of myself as a maker and leave the decision about whether I make art to the viewer."
3. How do you decide what you want to make?
"Sometimes I see a shape somewhere and I think "I wonder how I could make something like that" and sometimes I start thinking about a topic and my hands seem to just make something that speaks to the topic. Sometimes I just want to make something beautiful, and then I usually reach for colored stones or pearls."
4. Does your work draw inspiration from something? I find it looks very cellular like I am looking into a microscope.
"I have a graduate degree in marine biology, and the shapes of things I saw under water and on the shore are always in my thoughts, as are the things I see when I walk each morning in a local park. If there are themes I keep coming back to, it would be the passing of time and the cycle of life. I have spent a good part of my day job looking through microscopes, so the kind of organization you see in cells and tissues has certainly crept into what I make."
5. What is a jewelry technique you would like to learn?
"Really what I want to learn more about are basketry techniques so that I can work them into my metal work. I also want to add more fiber to my metal work and visa versa. I also like to work with monofilament (fishing line) and am not sure it would be received as jewelry outside the art jewelry community, but would love to show it and find out some day. "
6. Tell us a little about your newest bodies of work.
"The two new series, "Social distancing (is awkward)" and "Controlled, constrained, confined" are both a response to the new normal of COVID. The
6 feet apart rule of social distancing is very uncomfortable for me and most others I know – if feels rude to be so far from someone I am talking with, almost like a form of disrespect. The result is a series of metal tubes with single pearls or stones set awkwardly and at an irregular distance.
Although I have always values time alone, I found the inability to go where I wanted and do what I wanted when I wanted to be more constraining than I expected. The result is a series of layered metal over pearl or bead necklaces that do not bend and drape, as one would normally expect them to do.
As we get used to the social distancing and thinking about when we can go somewhere safely, I find life begins to seem more comfortable. In the same way, despite the awkward and constrained appearance of the pieces in both series, they feel very good once you pick them up and put them on."