A Walk In Her Shoes traces the steps of the American woman over the course of 100 years. Beginning at the turn of the twentieth century, the exhibit reflects on the evolving styles, materials, silhouettes, and function in women's footwear. From restrictive lace-up leather boots and painted silk peep-toe heels to glamorous stiletto pumps and chunky punk scene platforms, the exhibit showcases major trends in women's shoes in North America and Europe. The museum hopes it will also raise questions about women's evolving mobility, social positions, and expressive choices in the public sphere.
The artifacts on display represent a diverse array of designers and craft origin. Visitors can expect to see shoes by mid-century greats like Christian Dior, Bally, Salvatore Ferragamo, and Mary Quant, end-of-century stunners by Christian Louboutin, Thierry Mugler, and Yves Saint Laurent, and everything in between. In addition to these haute couture lines, the exhibit draws from Caribbean, South American, Asian, and American designs as well.
A Walk in Her Shoes features 50 pairs from the collection of the Fashion History Museum in Cambridge, Ontario, Canada as well as an extensive selection from ESSE Purse Museum's own collection.
The recession in the early 1990s was particularly devastating to American footwear manufacturers.Companies scrambled after marginal profit forecasts, based on unrealistic futures determined during the economic boom of the late 1980s, failed. Virtually all high fashion footwear was now being imported from Europe, and mainstream branded shoes and high fashion knock-offs were being made in Southeast Asia.
Retailing shifted as well, with luxury brands now retailing their own products, and cheaper lines being sold through factory outlets, televised home shopping, and E-commerce by the end of the decade. Shoe chains closed, although Aldo and Nine West, for example, survived by modernizing their retail outlets to look like up-market retailers.
With the rise of the internet, fashion journalists lost their powers of persuasion. Both the platform sole and the stiletto heel had been forecast as "on their way out" by many fashion writers in the mid 1990s, but both are still in fashion today. Fashion now worked in reverse, with ideas borrowed from the street and working their way up to haute couture. Punk and Goth went mainstream and even influenced shoe designers like Christian Louboutin and Manolo Blahnik.

The 1980s shoe market was diverse. There was an unending array of heel heights, styles, and colors offered every season. Fashion designers now regularly created footwear lines to accompany their collections, something that few designers had done before the 1980s.
The booming economy increased consumerism of luxury brands. Chain retailers began to struggle and responded by looking for cheaper lines and cutting costs of name brands with off-shore production. Meanwhile, the athletic brand footwear revolution that began in the 1970s expanded in the 1980s as sneakers took top sales over fashion footwear.
Power-dressing balanced femininity with feminism. Women dressed for success in the boardroom by looking more masculine from the waist up in broad shouldered jackets and tailored shirts, but their femininity was accentuated in high-heeled shoes.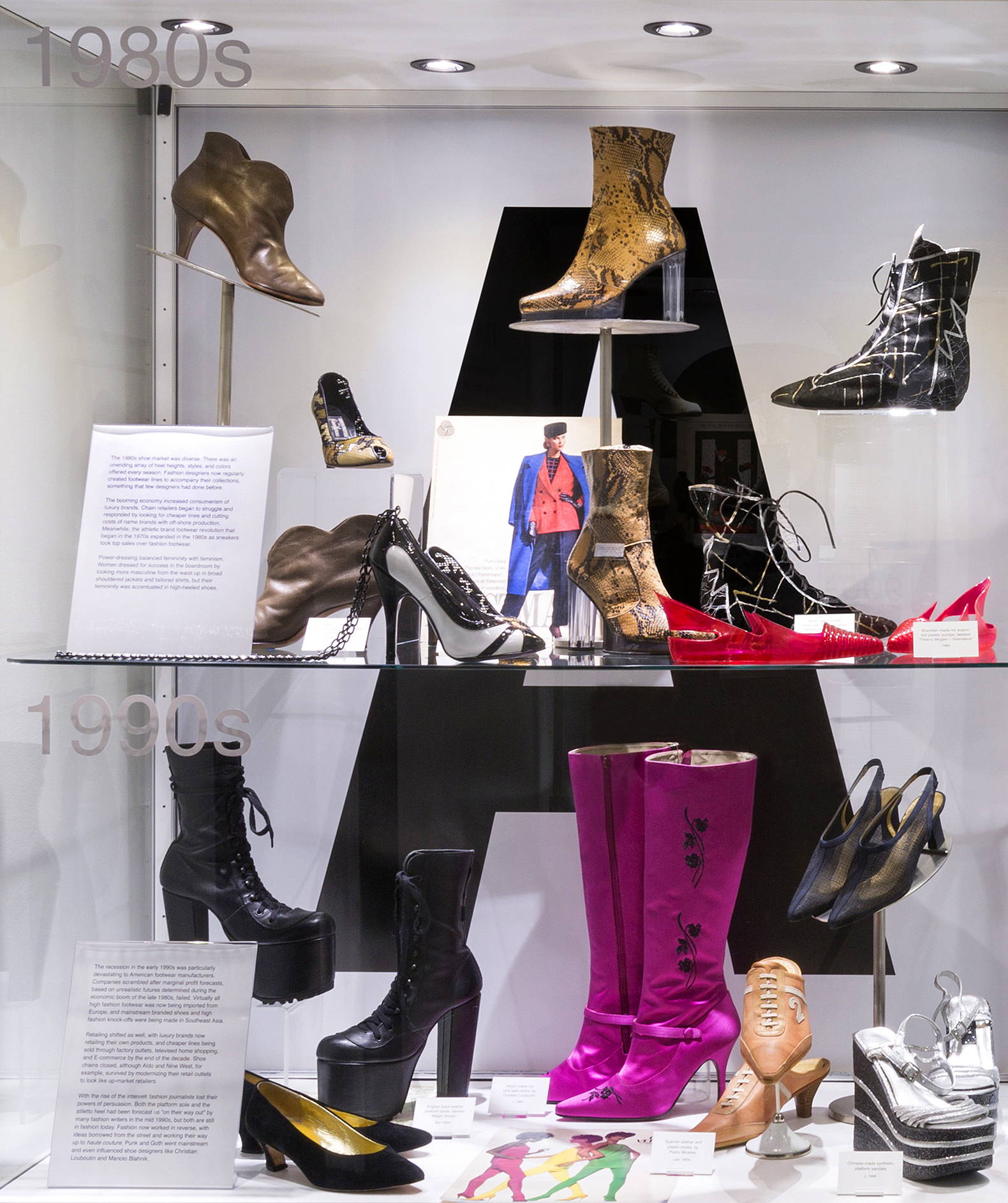 English black leather platform boots, labeled 'Magic Shoes' mid 1990s
Spanish black leather platform shoes, mid 1990s
Italian made hot pink satin boots, by Christian Louboutin, 1995
Spanish leather and plastic mules, late 1990s
Chinese made synthetic platform sandals, 1999

Italian black suede boots with gold and silver painted design, labeled 'Arlene La Marca', mid 1980s
Brazilian made for export red plastic pumps, labeled 'Thierry Mugler – Grendene', 1985
Italian leather appliques on net shoes, by Andre Pfister, mid 1980s
Italian-made printed cotton shoes by Walter Steiger, mid 1980s
Italian olive green leather boots, by Ferragamo, worn by Ginger Rogers, early 1980s

After 1968 American footwear production began to shrink. Countries like Brazil and Spain werecompeting with Italy for shoe export dominance. To compensate, American companies mergedinto ever-larger mega-corporations, upgrading production and streamlining management anddistribution to remain profitable.
The political and social upheaval of the 1960s that inspired the hippy movement resulted in aculture that raised interest in Bohemian styles, earthy colors, and natural materials. Historicaltrends also revived. Platform soles, not seen since the late 1940s, came back in style. Interestingly,the return of platform shoes also coincided with the feminist movement – perhaps lending a senseof psychological empowerment by raising women up to the same level as men.
Another revival from the 1940s was wooden soles. One of the most successful brands of thedecade were Italian made clogs first sold in 1978 in the U.S. under the name of Candie's.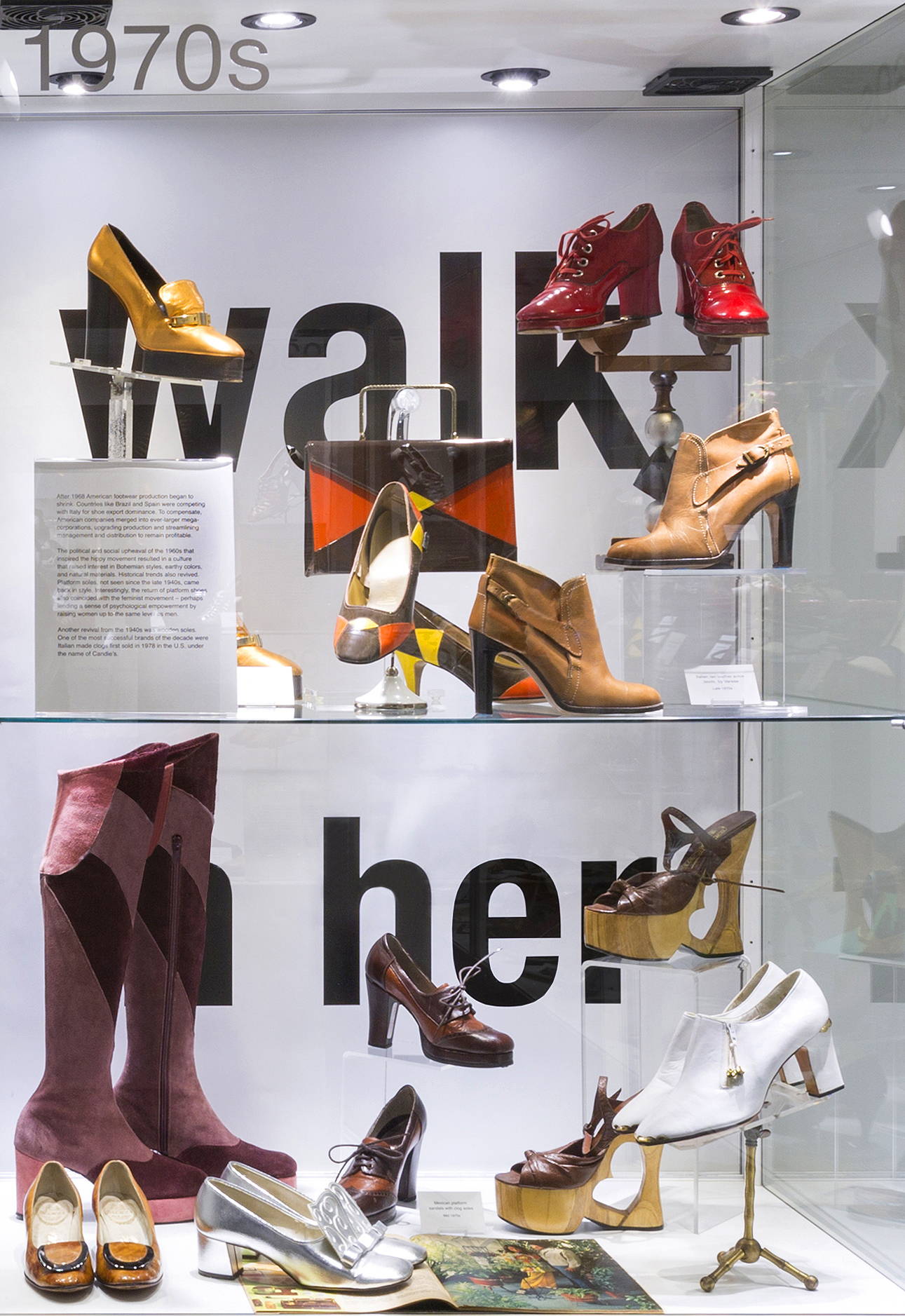 Italian metallic leather platform shoes, early 1970s
Olive suede boots, by Yves St. Laurent's Russian collection, 1975
Italian tan leather ankle boots, by Varese, late 1970s
Mexican platform sandals with clog soles, mid 1970s
American Suede patchwork suede platform boots, early 1970s

This decade saw a revolution in shoe design. The highest, thinnest stiletto heels and the pointiest toes possible were the height of fashion in 1960. Although complimenting a shapely calf and narrow ankle, the pointed toe and high heeled shoe was also the cause of numerous foot injuries, from bunions to turned ankles. The stiletto also carried hundreds of pounds of pressure per square inch that typically pock-marked linoleum and wooden floors with every step.
Stiletto-heeled shoes were still being made as late as 1968, but their popularity declined after 1963, especially with younger women who were choosing shoes with lower heels and broader toes.1960s fashions in dress and footwear saw womanly glamour displaced by girlish youthfulness.
In 1961 French designer Pierre Cardin launched a low-heeled square toed boot in his Autumn collection, but the style did not meet with success until 1964 when French designer Andre Courrèges paired a similar version with his space-age mini skirt look. Boots were the perfect compliment to the ever-shrinking skirt of the late 1960s, especially in space age materials like wet-look vinyl and stretch nylon.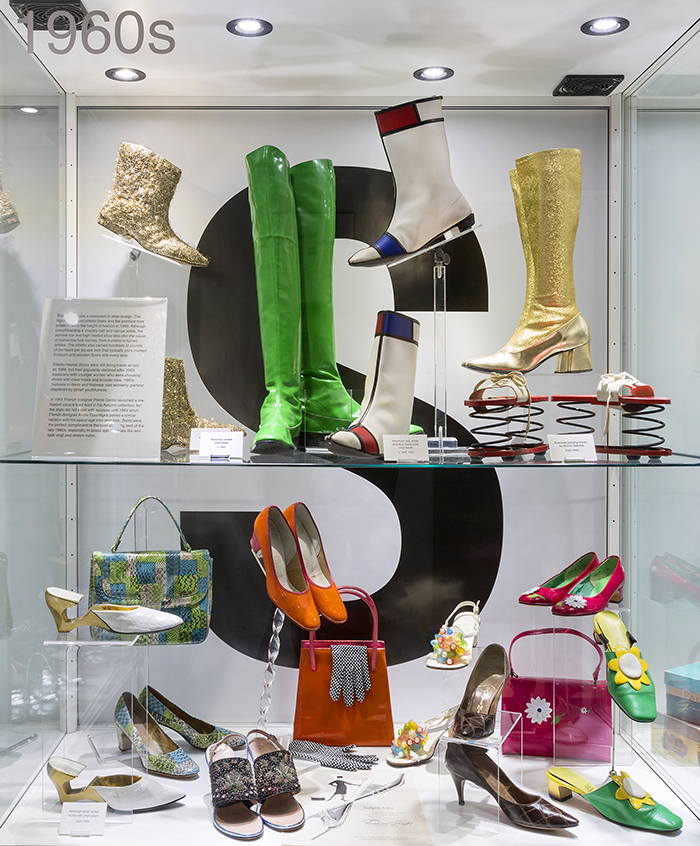 English rubber and felt boots, by Mary Quant, 1967
American wood wedge mules with vinyl uppers, early 1960s
French polyester fringed textile boots, early 1960s
American stretch vinyl boots, c. 1966
American red, white and blue block-print vinyl boots, c. 1965-1966

With the high cost of postwar labor, small runs of high fashion footwear were no longer profitable in the U.S. However, Italian labor was much cheaper, and the country was teeming with skilled craftsmen. Many American shoe designers, like David Evins, Seymour Troy, and Beth Levine had their shoes made in Italy.
High-heeled pumps and sandals dominated footwear during the decade. The toe gradually pointed and the heel narrowed until in 1956 the stiletto heel was launched. The stiletto used a metal rod rather than wooden to create the thinnest possible heel ever produced.
Another style called the Spring-o-lator also debuted in 1956. Although the patent holder of the Spring-o-lator invented the idea for orthopedic reasons, designer Beth Levine recognized the value of the design. The elastic insole stretched when put on, securing the shoe to the wearer's foot. Spring-o-lator mules were a fashion hit from the moment they hit the market in the spring of 1956 until the end of the decade.

American textile Spring-o-lator with rhinestone trims, late 1950s
American suede and rhinestone studded lucite shoes, mid 1950s
American blue silk shoes, by Delman, with metal and rhinestone buckles, late 1950s
American/French beige and brown pumps, labeled 'Delman - Christian Dior - Paris', mid 1950s
American yellow leather sandals with cantilevered wedge-heels, labeled 'Mel Preston – Tip Toz', patented 1956

Italian shoemaker Salvatore Ferragamo came to fame in the late 1930s for introducing cork wedge heels, wood platform soles, and non-traditional materials for uppers such as woven and crocheted cellophane. He used these materials because traditional shoemaking materials were limited due toItaly's war with Abyssinia (Ethiopia) in 1935/36.
When war spread to all of Europe in 1939, both sides of the conflict refocused manufacturing for military production. Most civilian footwear became utilitarian and durable as well as rationed. The U.S. had the most generous shoe ration of any wartime nation: Every man, woman, and child was limited to three pairs of leather shoes per year. American rationing lasted from February 9, 1943 to October 30, 1945; far less than Britain, which experienced shoe rationing for twice as long. If more shoes were desired beyond the ration, then they had to be made of substitute materials such as cork and wood, like Ferragamo's shoes had been.
After the war ended, platform shoes remained popular in the U.S. until the end of the decade. Postwar versions, however, were far more decorative and colorful.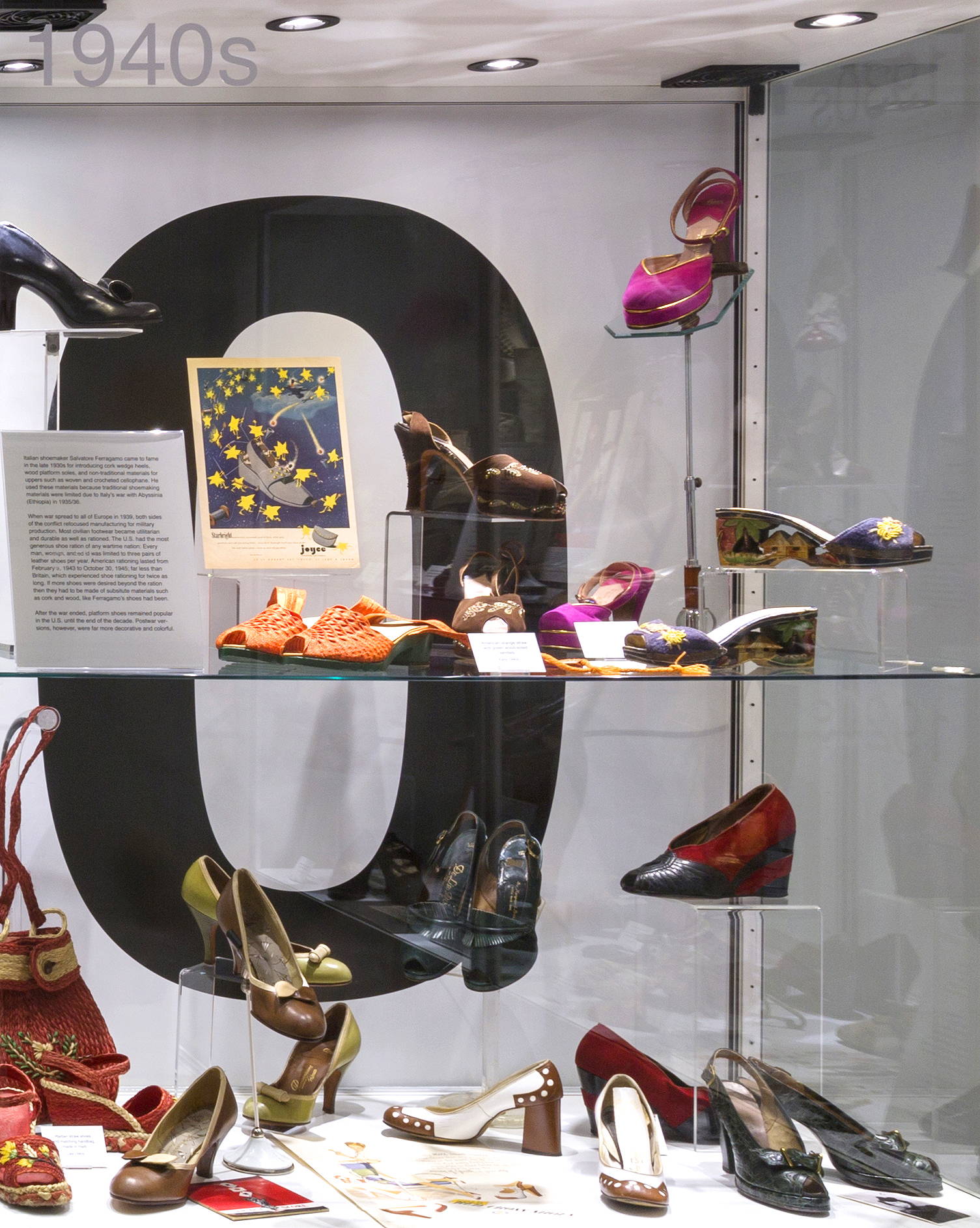 American orange straw and green wood-soled sandals, early 1940s
American red suede and black leather wedge-heeled pumps, early 1940s
American brown suede and wool paisley wool shoes, by Gainsborough, Florida, purchased 1947
American fuchsia suede and gilded leather platform shoes by Palter De Liso, New York, late 1940s
Haitian straw shoes and matching handbag, made in Haiti, late 1940s

Despite the Great Depression, American manufacturers of brand name and cheaper shoe lines actually expanded production during the decade.
High fashion footwear production was now centered in New York, where ladies' dress shoes were made using a glued or "cement" construction. This new method was an unpatented process, which allowed European fashion shoes to compete with American made footwear. Perugia in France,Bally in Switzerland, and Ferragamo in Italy were regularly exporting their shoes to the U.S. by the late 1930s.
Sandals were the newest addition to the shoe wardrobe. Toe baring sandals first appeared on the beach, but evening versions in silk and metallic leather became popular early in the decade. Open toe, sling back styles were introduced for daywear in the late 1930s, but the open styles created a problem since most stockings had reinforced toes and heels and were not attractive when worn with sandals.
With the lower leg now fully visible, shoes became as equally important as the hat in creating an outfit, and as noticeably out of place, if not up to date, with fashion. Shoes became more decorative and colorful, and higher heels prevailed as legs appeared longer in high-heeled shoes.
New England had been the seat of the American footwear industry, but during the 1920s, St. Louis became the largest shoe-making center in terms of pairs produced; most made there were brandnames and sold through chain stores. Kinney, Edison Brothers, Thom McAnn, and Jarman were the largest chain stores at that time and became instrumental in how Americans shopped for shoes for the rest of the century.
While American manufacturers were excellent at producing ready-made shoes, high fashion footwear was being either imported from Europe or made in small shoemaking firms like I. Miller, Delman, and Palter De Liso in New York. A pair of imported French designer shoes might cost upwards of $150.00 in the late 1920s, but a pair made in New York could be had for between$20.00 and $30.00.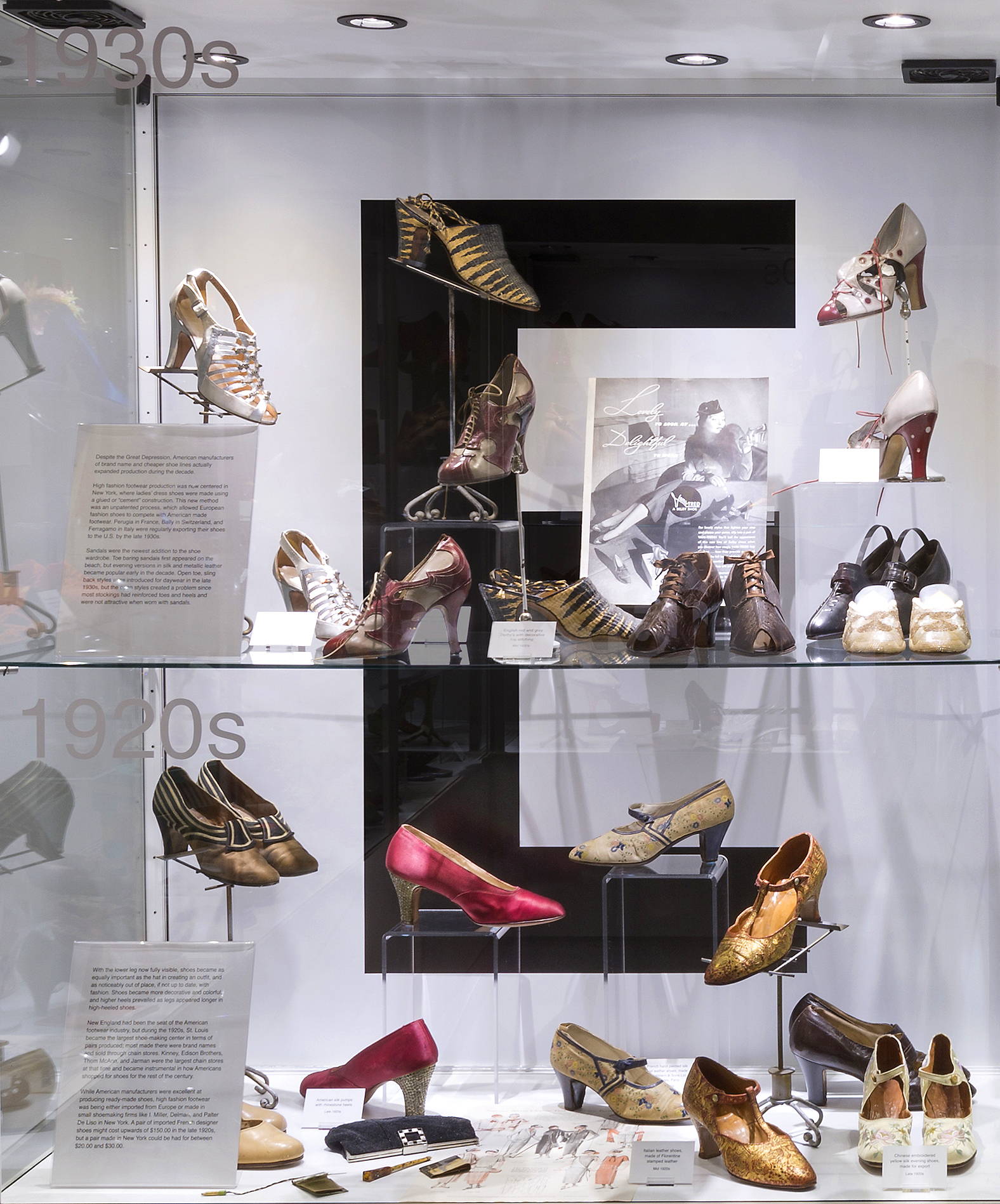 English red and grey Derby's with decorative top stitching, mid 1930s
English red and grey sandal-pumps, unlabeled, mid 1930s
American green silk and gold kid evening shoes, labeled 'Oppenheim Collins, mid 1930s
Swiss white silk and silver kid evening sandals by Bally, late 1930s
Italian straw shoes with sling back straps, late 1930s

American silk pumps with rhinestone heels, late 1920s
Chinese embroidered yellow silk evening shoes, made for export, late 1920s
French hand painted silk and leather shoes, made by Hellstern & Sons Ltd. Brevetes, Paris, late 1920s
Italian leather shoes, made of Florentine stamped leather, mid 1920s
French leather shoes, decorated with appliques of leather, late 1920s
As petticoats reduced in fullness and hemlines inched up the leg, boots grew taller. When the FirstWorld War began in 1914, European shoe production shifted from civilian to military footwear. To save on leather, women's fashion boots were often made with wool or suede uppers – materials not as vital for military use. By Armistice in 1918, shoes – not boots – were becoming more popular for all occasions but winter weather.
A health-conscious bulbous toe style called a "Bulldog" toe first appeared in the United States in1908. The style was designed to improve circulation by allowing room for the toes to move. The style was picked up by European shoemakers by 1914, where it was called an "American" toe. The style disappeared by the end of the war.
Fashion magazines became popular publications in this decade. While editorials featured high fashions from Paris and New York, advertisements promoted American ready-made products, including growing popular brands of footwear like Buster Brown, Keds, Converse, and Florsheim.

At the turn of the twentieth century, the United States had a world-wide controlling interest in the production of ready-made footwear. American patents held most shoe production technologies, and the American innovation of chrome tanning produced quality leather cheaper and faster than traditional tanning methods.
Hidden by long skirts, most daytime footwear was black, brown, or white, with low, sturdy heels.Dressier shoes for evening might have beaded or embroidered vamps, but colors were generally subdued and decorations were usually in the same color as the leather. A popular dressy leather was "bronzed" kid – a process that applied red dye over brown kid to produce a purple hue.
When bicycling came into vogue in the 1890s, many women took to wearing riding costumes with shorter hemlines and tall boots. The boots protected stockings from mud and damp and lace hooks on the upper half of the closure allowed the laces to adjust easily with the movement of the calf muscle. Many bicycling boots also had a metal ring for the boot lace tags or aglets to be secured in order to keep the laces from becoming tangled in the chain or spokes.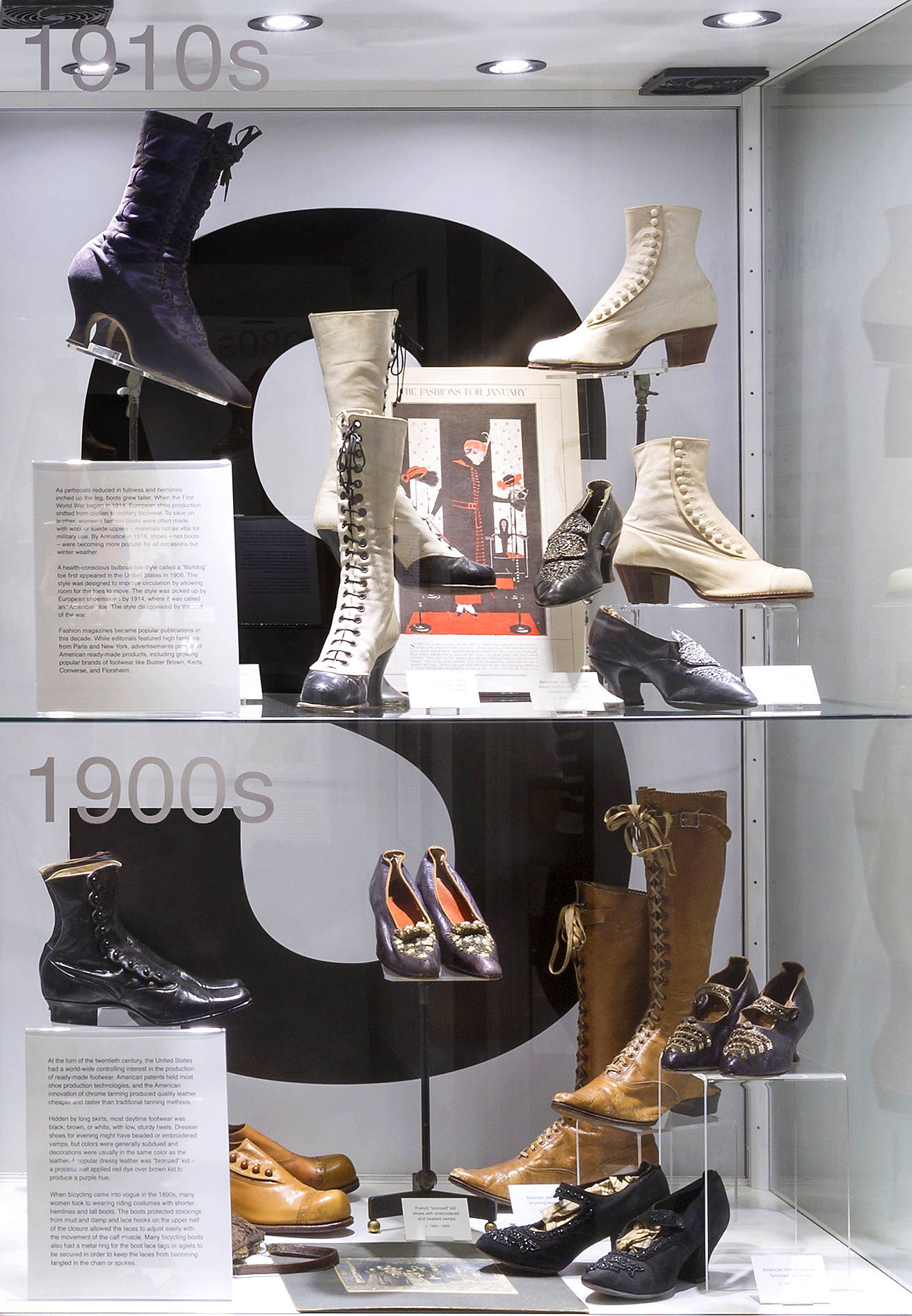 American leather bicycling boots, c. 1900
American black leather boots, c. 1904 – 1910, labeled 'Queen Quality' by Thomas G. Plant Co., Massachusetts
Canadian glazed calf leather button boots, c. 1900, labelled 'John McPherson Company Ltd., Hamilton'
French 'bronzed' kid shoes with embroidered and beaded vamps, c. 1900 – 1905
American bronze beaded 'bronzed' kid shoes, c. 1905 – 1910

French boots with black patent camps and heels, and white suede uppers, c. 1915
Canadian cotton button boos with 'bulldog' toes, c. 1910 – 1912
Canadian brown and khaki leather boots, c. 1916 – 1918American blue suede and silk boots, c. 1917 – 1920
American steel beaded black leather shoes with beaded buckles, c. 1918 – 1920