The Vintage Years 1959 - 1972
From the moment she floated onto our television screens in March 1959 (during The Mickey Mouse Club) – and into our lives and collective consciousness – Barbie® changed the playing field for little girls. She was no June Cleaver or Harriet Nelson, dependent on a man and defined by domesticity. Barbie® was a "teenage model," independent, classy, gainfully employed – yet still in school, where she was friendly and popular.
Or that was her backstory as told by Mattel. But from the moment we met her, we knew she was so much more.
Barbie® was a role model and a fashion queen (and, oh, those fashions!) – a different way of thinking and a projection screen. Instead of training little girls to fill the motherhood mold, Barbie® opened doors. Anything we could imagine her (or ourselves) to be or do, she could act out for us.
Barbie® let us try on possibilities as easily as she tried on new outfits. If you could think it, she could do it. Barbie® also taught us about friendship – no snooty gal she. Not only was Barbie® our best friend, she shared her wardrobe with her own doll-size friends. Cute, freckled-face everygirl Midge® debuted in 1963. And in 1969, Christy® and Julia®, Barbie's African-American friends came onto the scene.
And then there was Ken®, her ever-faithful boyfriend – arm candy for Barbie® from 1961 on, a man she enjoyed but never felt the need to marry.
Because Barbie® is her own girl. Though she has adapted with the times and gone through many incarnations, her strong, independent spirit remains.
From the Collector: Why Barbie®?
I played with Barbies as a child; my first Barbie® was a blonde ponytail that I recall trading to my cousin for her titian bubble-cut when she came on the scene. For later gifts, my parents gave me a redheaded Midge®, a blonde Skipper® and a Ken®. All these original dolls that I played with are in my collection today.
My memory of those play times revolve around my fascination with the fabulous outfits, as I dreamed of growing up and wearing similar ones! The outfits were made as well as human clothing; made of fine fabric with working zippers, they often came with complementary accessories. These miniature fashions were frequently influenced by the "in-vogue" fashions of the day, with many made popular by America's then-First Lady, Jacqueline Kennedy.
It was also during my early years that I loved looking through my Mom's journal of sketches of ladies, some dressed in the styles that gave rise to my love for fashion. To this day, that love of fashion is what drives my doll collecting – Barbie® and other fashion dolls.
A few of the Barbie® outfits and suitcases in my collection were mine as a little girl as well. But doll magazines and dolls shows (some specializing in vintage Barbie®) increased my enthusiasm to collect more of these miniature dolls and their fashions. Most of the collection I did not actually have as a child, but they continue to bring the happiest memories of long ago.
I hope they bring those happy memories to you, too.
— Marsha Stone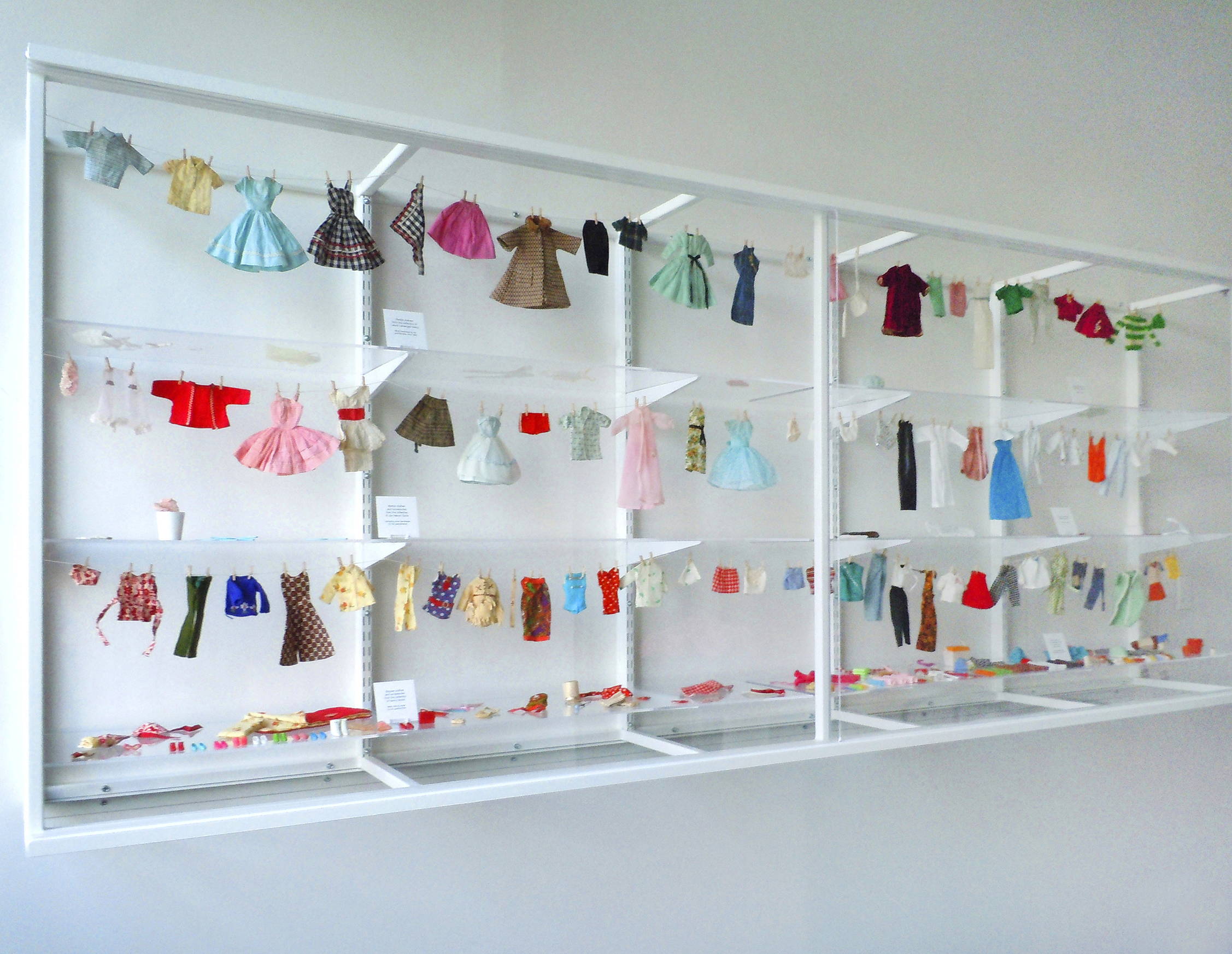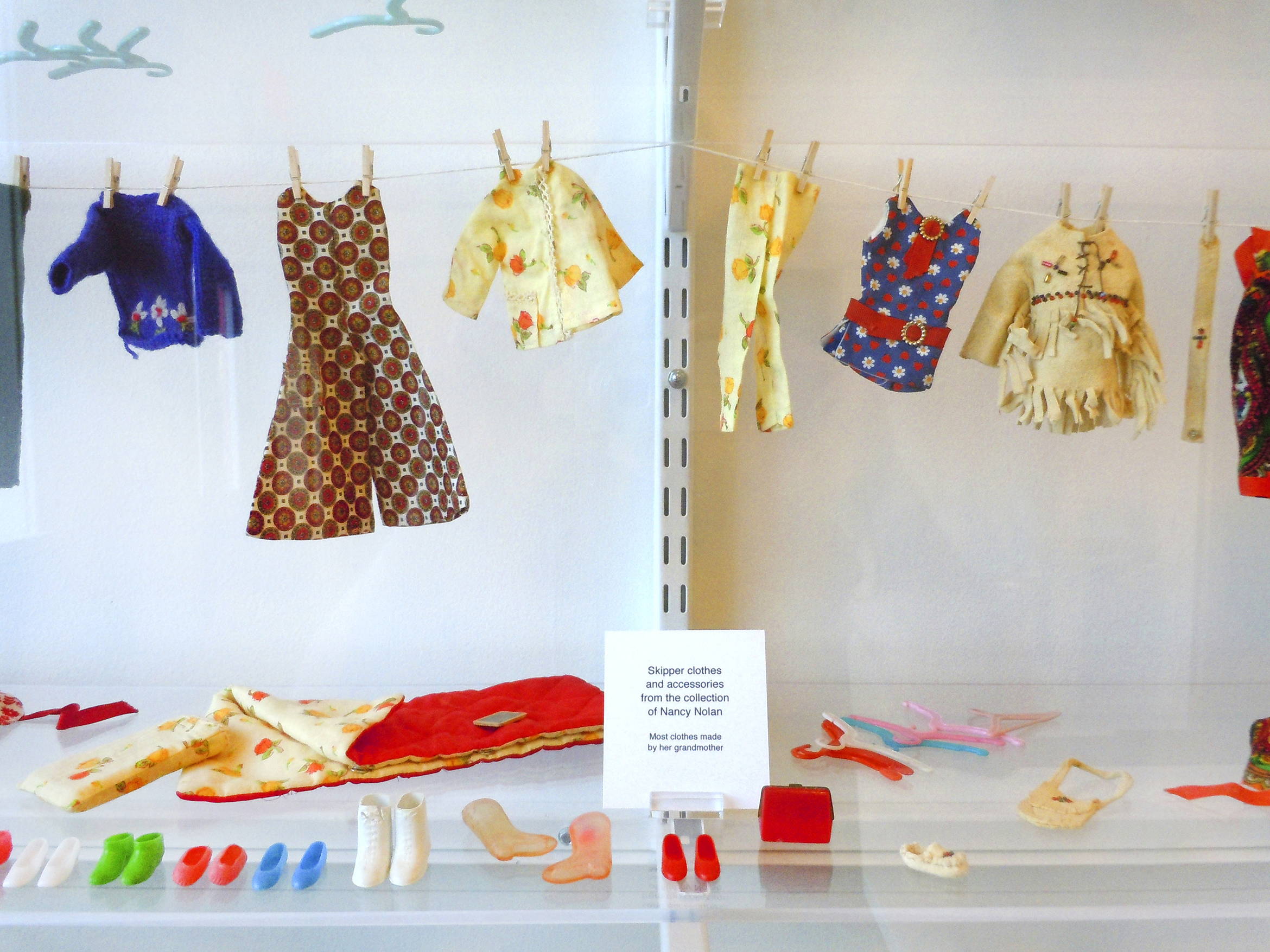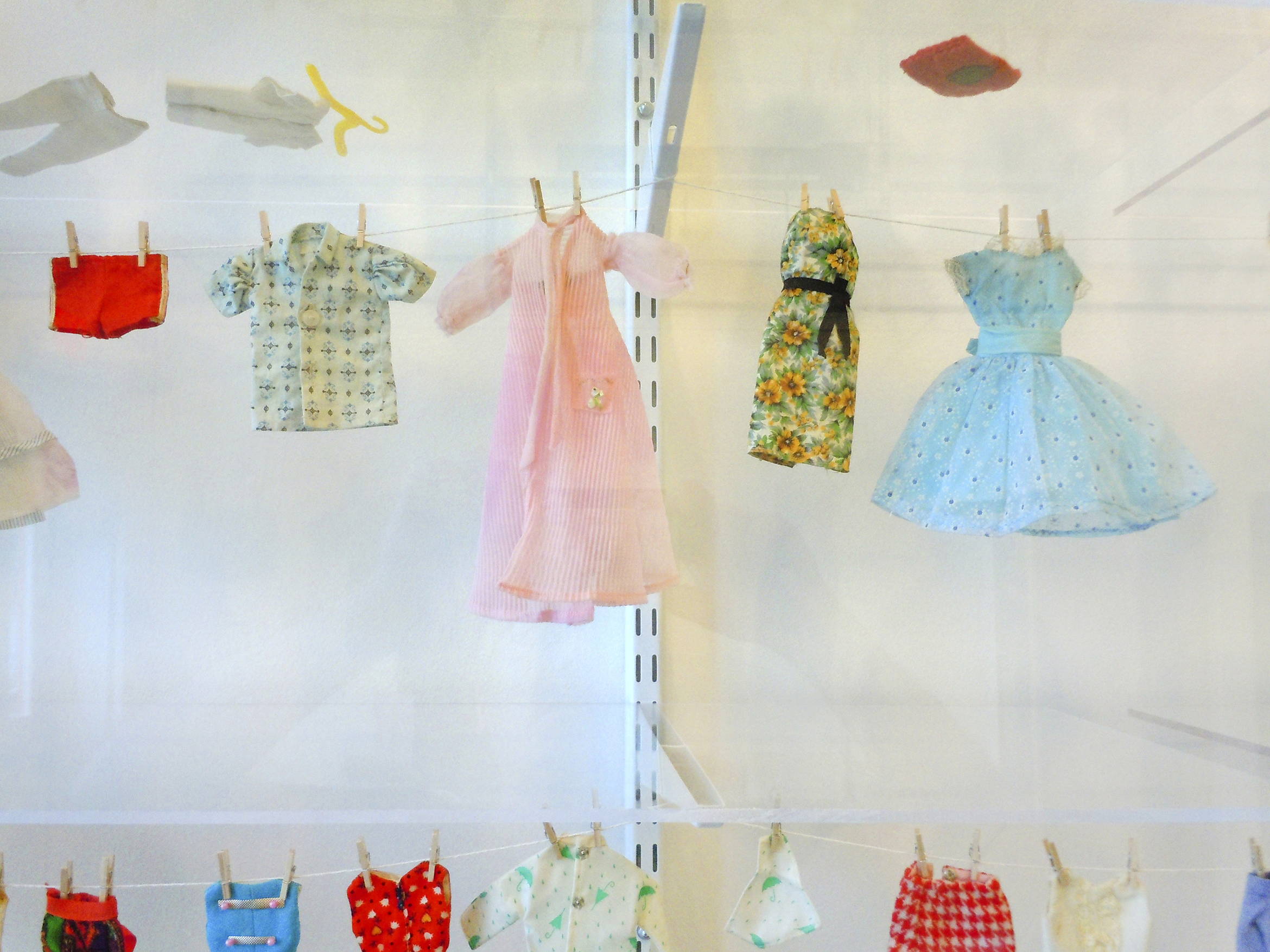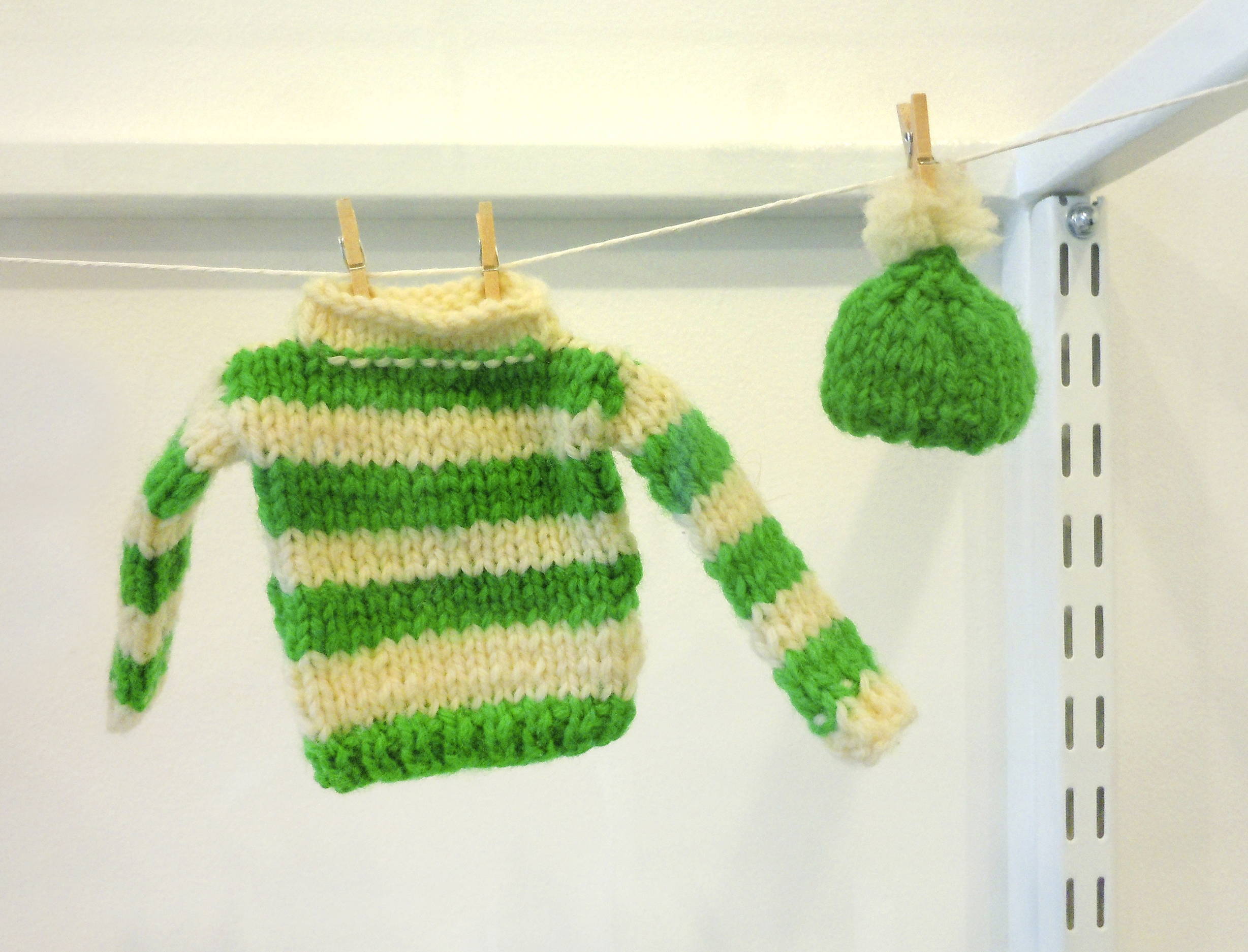 Barbie and doll clothes from Anita & Betsy Davis, Nancy Nolan, Laura Cartwright Hardy, and Jan Marsh Taylor.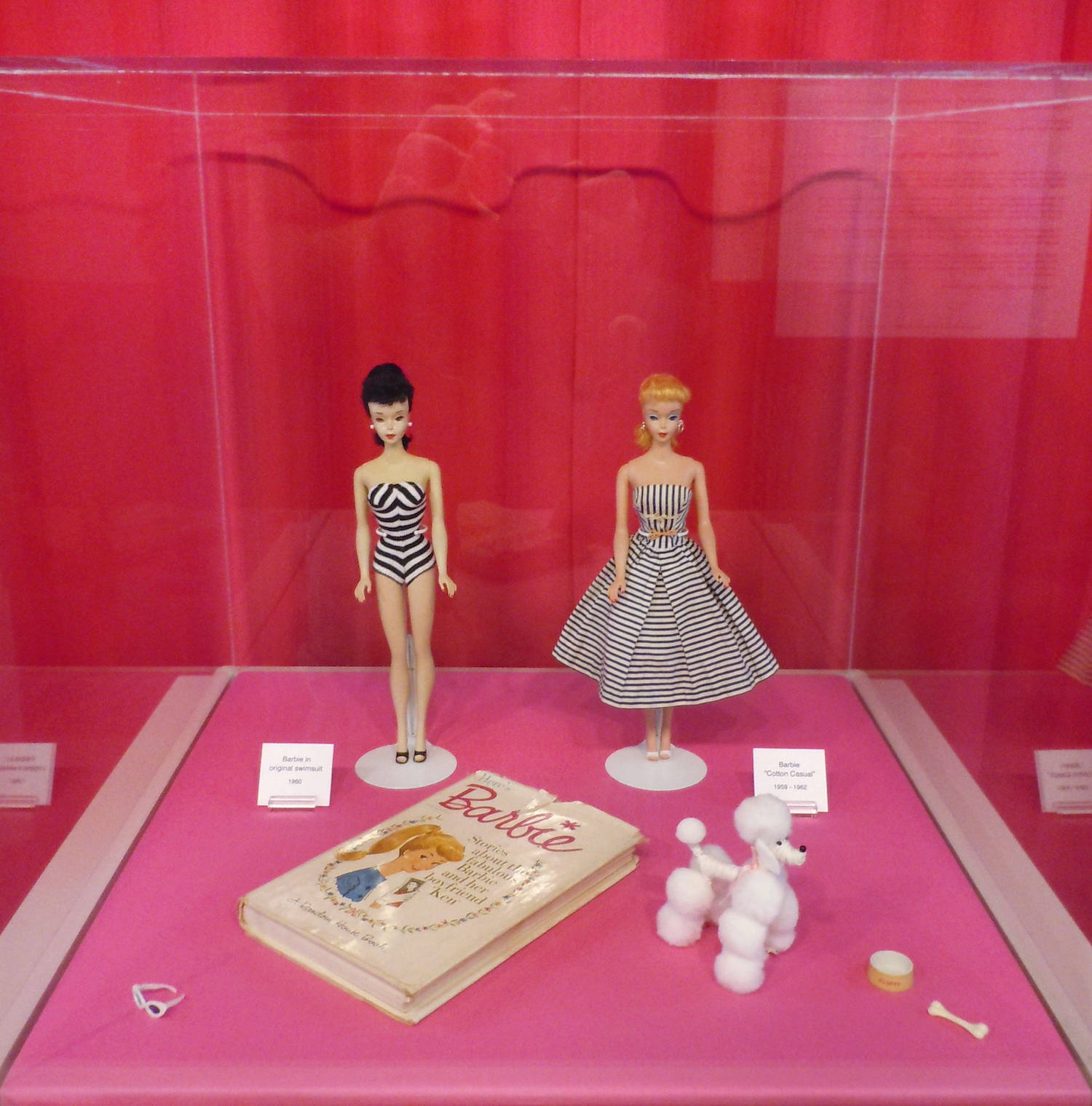 Barbie in original swimsuit - 1960
Barbie "Cotton Casual" - 1959-62